"High gradient Acceleration structure" completes the process test (2020-06-08)
---
On June 8, CEPC Group carried out process tests on the s-band "high gradient acceleration structure" at room temperature, and it passed the acceptance test. The test team consisted of six experts from Peking University, Tsinghua University, Shanghai Institutes for Advanced Study and Institute of High Energy Physics, Chinese Academy of Sciences. 
The acceleration structure adopts curved cavity and internal water cooling scheme, and adopts single-port input double-fed runway type coupler in S-band for the first time in China.
In the high power test, the researchers used the energy multiplication system to measure the acceleration gradient. The high voltage of the modulator was 37kV, the peak power of the input to the accelerator tube was 155.4MW, and the corresponding acceleration gradient reached 33MV/m. Among them, in the 3-meter-long S-band acceleration structure, only Posco Accelerator Laboratory in Korea has reached the acceleration gradient of 30MV/m. Therefore, the s-band ambient temperature "high-gradient acceleration structure" developed by this project has reached the international advanced level.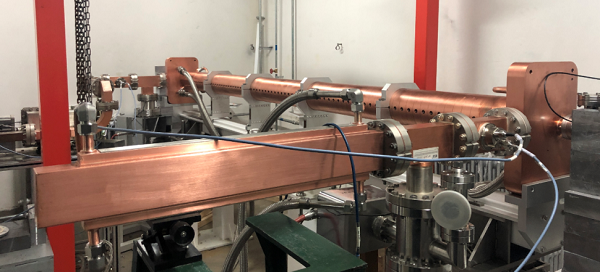 Accelerating tube on High power test bench
klystron signal in Pulse high voltage and output waveform